BRICKNAUTS
Ufficiale il set LEGO 75936 Jurassic Park: T.rex Rampage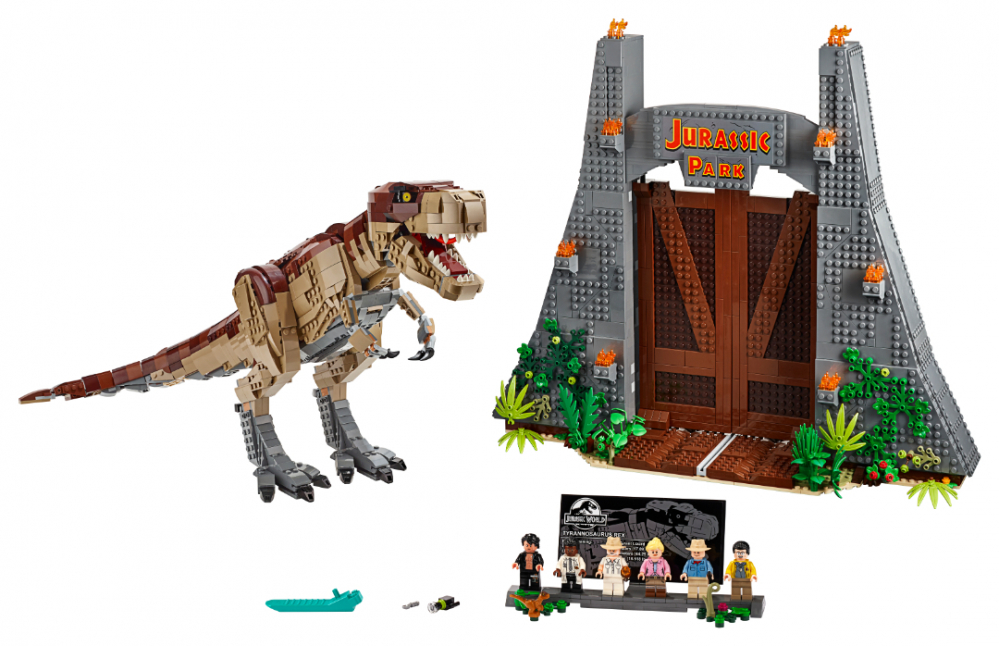 Ufficializzato da LEGO® pochi minuti fa il set 75936 Jurassic Park: T.rex Rampage con cui potrete dar vita con i mattoncini all'immenso Tirannosaurus Rex ed al portale d'entrata apparsi nel primo, omonimo film di Steven Spielberg.
L'imponente costruzione è composta da 3120 pezzi, sei minifigure e il gigantesco dinosauro, simbolo indiscusso dei film.
Il cancello d'entrata al Jurassic Park misura 48 cm di altezza, 48 di larghezza e 14 di profondità, mentre il Tirannosaurus Rex è alto 22 cm, lungo 69 e largo 17.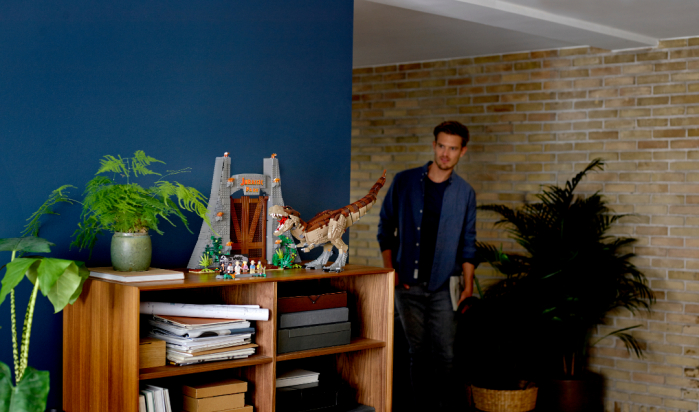 All'interno della costruzione che regge il cancello, nel retro di questa, si possono vedere alcune delle scene iconiche del film tra cui il nido con alcune uova appena schiuse, il bunker con Ian ferito e la camicia aperta sul petto (!!!), la scena della riaccensione dell'impianto elettrico del parco, il gabinetto in cui l'avvocato verrà divorato dal TRex, la sala computer, la sala da pranzo con Hammond e la bomboletta contenente i campioni di DNA rubati da Nedry sepolta dal fango.
Il cancello si potrà inoltre aprire tramite alcuni ingranaggi posti dietro la scritta Jurassic Park.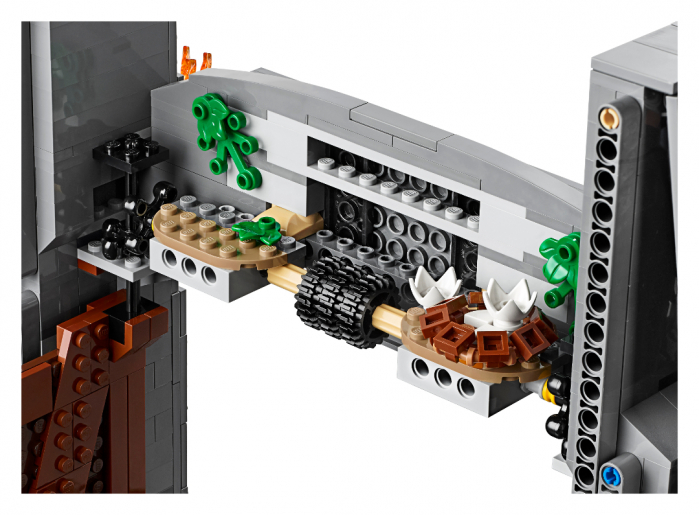 Le minifigure presenti all'interno, oltre ad un baby dinosauro, sono:
John Hammond
Ian Malcolm
Ellie Sattler
Alan Grant
Ray Arnold
Dennis Nedry
Presente la classica targhetta in stile "UCS" appoggiata alla base su cui sarà possibile posizionare le minifigure.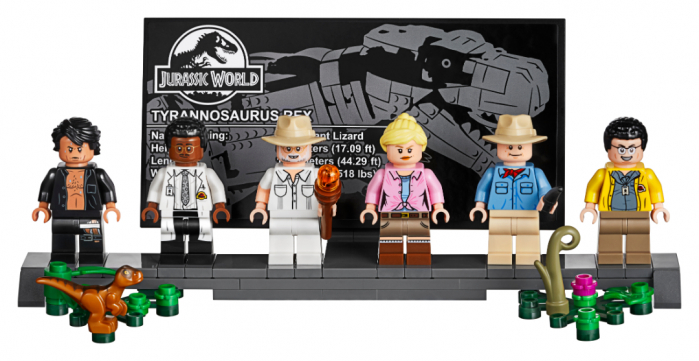 Il set sarà disponibile per clienti VIP a partire da mercoledì 19 giugno al prezzo di 249,99 Eur, mentre per tutti dal 1° luglio.
Di seguito la press release ufficiale.
---
75936 Jurassic Park: T. rex Rampage
Ages 16+. 3120 pieces
US $249.99 – CA $299.99 – DE €249.99 – UK £219.99 – FR €249.99 – DK 1899DKK
*Euro pricing varies by country.  Please visit shop.LEGO.com for regional pricing.
Build and display the classic Jurassic Park gate and T. rex dinosaur toy!
Enjoy an advanced building experience and relive classic movie moments with LEGO® Jurassic World 75936 Jurassic Park: T. rex Rampage. This collectible construction toy includes 3,120 building bricks and features the original Jurassic Park's iconic gate and a large, fully posable, brick-built T. rex dinosaur toy which is ideal for display. The trigger-activated gate is framed by a wall incorporating 7 detailed, brick-built scenes inspired by the movie, such as John Hammond's dining room, Ray Arnold's control room and a bunker for Ian Malcolm. A must-have for Jurassic World fans, this toy construction set includes 6 minifigures and baby dinosaur figure, plus a minifigure display stand with T. rex facts plate.
This dinosaur toy set includes 6 minifigures: John Hammond, Ian Malcolm, Ellie Sattler, Alan Grant, Ray Arnold and Dennis Nedry, plus a baby dinosaur figure.
Brick-built LEGO® T. rex dinosaur toy features snapping jaws, posable head, arms, legs and tail.
The brick-built LEGO® version of the original Jurassic Park's iconic gate has an opening function, jungle leaves and flame elements.
The wall framing the gate features a buildable dinosaur nest with 2 cracked egg elements at the top and other brick-built scenes inspired by the movie, including: a bunker with a buildable bed for Ian Malcolm, flashlight and fire extinguisher, plus ladder and display case elements; power shed for scene with Ellie Sattler; John Hammond's dining room with table and minifigure chair, plus ice cream, spoon and 3 cookie elements; Ray Arnold's control room with a buildable desk, 3 computers and a minifigure chair; scene with a buildable bathroom; scene for Dennis Nedry with a buildable mud slide and shaving cream can.
This display toy model also includes a buildable minifigure display stand with T. rex facts plate.
Accessory elements include John Hammond's hat and cane, and Alan Grant's hat and dinosaur claw.
John Hammond, Ray Arnold and Dennis Nedry minifigures are new for June 2019.
This collectible toy building set includes 3,120 pieces and makes a great dinosaur gift for adults.
Jurassic Park gate measures over 16" (42cm) high, 18" (48cm) wide and 5" (14cm) deep.
rex dinosaur measures over 8" (22cm) high, 27" (69cm) long and 6" (17cm) wide.
---