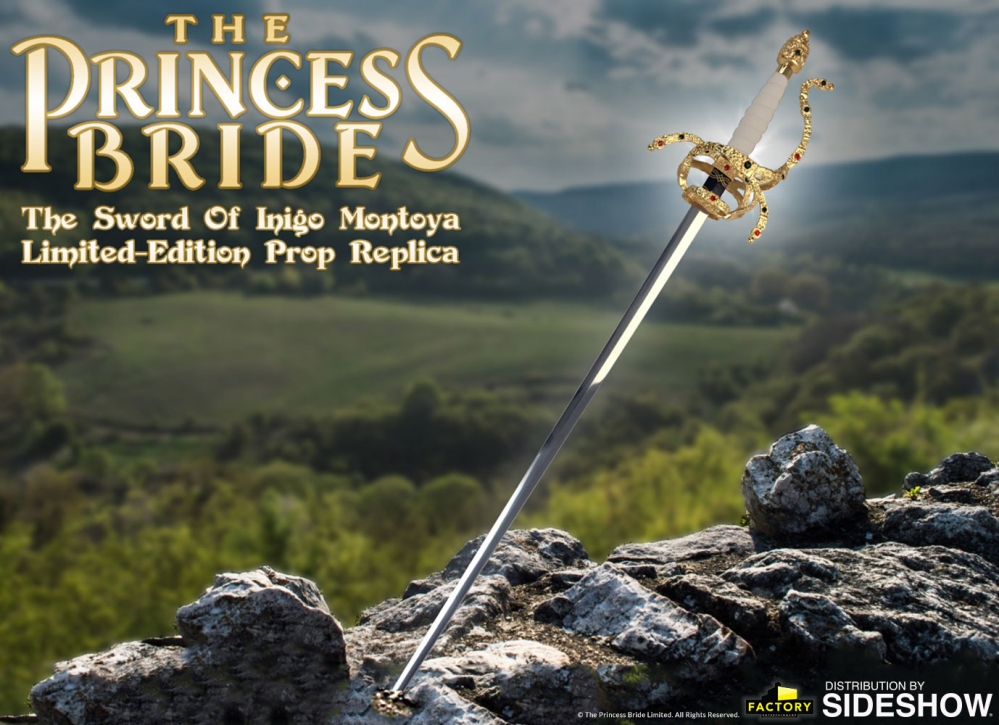 Dal produttore Factory Entertainment, distribuita da Sideshow, ecco la famosissima e bellissima replica della spada di Inigo Montoya, proprio quello della celebre frase «Hola. Mi nombre es Inigo Montoya. Tu hai ucciso mi padre. Preparate a morir!»
Dopo averne rivisto il giovane protagonista (Fred Savage) nel trailer PG13 di Deadpool2, torniamo a parlare di un film cult come "La storia Fantastica" con questa ultra dettagliata spada, ovviamente in metallo, che è l'esatta replica di quella vista nel film. Una vera e propria Prop Replica con licenza ufficiale della spada di scena usata da Inigo Montoya nel film The Princess Bride (tra i 40 film anni '80 per ragazzi da (ri)vedere).
Replicata direttamente dall'originale spada di scena con un'attenzione particolare ai dettagli, presenta una lama di alta qualità, forgiata a mano in acciaio ad alto tenore di carbonio (SAE1060) e una manico avvolto in pelle color avorio (appositamente allungato per adattarsi a un uomo con sei dita alla mano destra). La guardia della spada ha un bellissimo ed intricato design in ottone placcato oro riccamente decorato con gemme riprodotte. Ogni replica include un'elegante placca display da montare a parete, numerata e con certificato di autenticità.
My name is Inigo Montoya, you killed my father. Prepare to die!
| | |
| --- | --- |
| Prezzo: | 400 $ |
| Data di arrivo: | ottobre 2019 |
| Materiali: | Acciaio, avorio, cuoio |
| Lunghezza: | 31,25″ L (79,38 cm)* |
| Peso: | 5,00 lbs (2.27 kg) |